Intelligent evaluation of the facts, professional management of the details
As construction industry experts, Summit Consultants, Inc. specializes in unique construction challenges on residential, commercial, industrial and historical properties. We also have extensive experience with Public Works projects. Summit Consultants, Inc. can provide you with Owner's Representative and Project Management Services for Homeowners Associations pursuing site improvements, construction defect cases and deferred maintenance projects. Call us today!
What is Professional Management?
Professional Management is the overall planning, coordination and control of a project from inception to completion, directed to satisfying a Client's requirements in order to produce a functionally and financially viable project. With us, your project is completed on time, within authorized budgets and costs, using required quality standards to a successful conclusion.
EXPERT SERVICES WE OFFER:
Construction Management - Overall site management of construction activities including contractor bidding, awarding of contracts, scheduling, scope of work, contractor payments and all phases of the physical construction. It also includes coordination and implementation of the project's architectural and engineering designs as well as clarifying time and cost consequences of design decisions and their construction practicality for the Owner.
Project Management – All-inclusive implementation of the Owner's project. Planning, scheduling, accounting, supervising construction activities, measuring physical progress and controlling the entire project for the Owner. Professional coordination of design, funding, cash flows, purchasing, engineering and construction management as one efficient entity from inception to completion.

Owner's Representative - Responsibility for the Owner's best interest before, during and after the project. Verify cost accounting and product value during the course of construction. Verify appropriate pricing and procedures. Verify and approve contractor/vendor invoicing and progress completed. Review, investigate, and complete all related government entity requirements. Act on behalf of the Owner on all contract and course of construction decisions.

Design/Build - Construction techniques whereby the contractor and the consultant develop the Owner's concept, design the project, obtain all local planning and building department approvals as well as actually constructing the structure or project. The Owner typically works directly with the contractor and the consultant in lieu of relying on conceptual architectural designs and engineering services. The Owner can expect complete control of the construction schedule and reduced costs due to the more efficient constructability of the design. Typically, this approach is used when the Owner knows exactly what they want for all aspects of the project.

Value Engineering – A creative, organized effort, which analyzes the requirements of a project for the purpose of achieving the essential functions at the lowest total costs through the study of alternate design concepts, materials, and methods without compromising the functional and value objectives of the Client. Includes an analysis of types of materials available, construction procedures and equipment options related to the project to make selections with the Owner for the purpose of achieving the required outcome at a lower overall cost consistent with the requirements for performance, reliability and maintainability.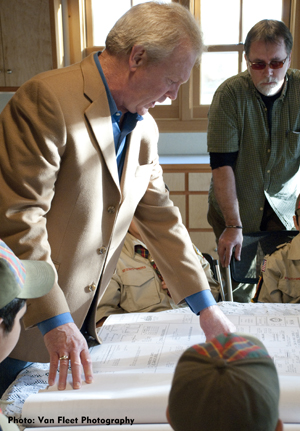 On site at Rancho Los Alamitos, Mike, a former Eagle Scout, demonstrates blueprint reading to a local Boy Scout troop.
OUR EXPERT SERVICES ALSO INCLUDE:
Concept to Completion – Turnkey – Any Phase
Quality Control Inspections
Structural and Mechanical Failure Analysis
Codes - Permits – Variances
Planning and Zoning Issues
Feasibility Studies/Budgets
Project Planning and Budgeting
New Construction
Development Management
Remodeling/Interior - Exterior
Historical Reconstruction/Replication
Historical Restoration/Adaptive Re-use
Dispute Resolution – Contractual Obligations
Property Inspections – Commercial, Industrial, Residential
Geothermal Consulting
What can we help you with? Call us today and get professional help with your project.
Protect your investment - Hire a licensed and insured contractor
California law (B&P 7028) requires a state contractor license for any construction project valued at more than $500 in labor and materials. Contractors are required to purchase workers' compensation coverage for all employees (Labor Code section 3700.5) to protect property owners from liability if a worker is injured on their property. Licensed contractors are required to be bonded and insured.
Contractors State License Board (CSLB) urges consumers to follow these tips before hiring anyone to work on their home, business or commercial property:
Hire only state-licensed contractors and ask to see their license and a photo ID to verify their identity.
Always check the license number on CSLB's website to ensure the license is in good standing.
Make sure that the contractor has workers' compensation insurance for all employees, and ask about liability insurance in case property damage occurs.
Don't pay more than 10 percent of the contract value, or $1,000, whichever is less, as a down payment.  There is an exception for about two-dozen licensees who carry special bonds to protect consumers.  These exceptions are noted on CSLB's website.
Don't pay in cash and don't let payments get ahead of the work.
Get at least three bids and three references for each contractor.
All contracts and changes must be in writing and signed by both parties prior to proceeding with the work.
| | | |
| --- | --- | --- |
| | Call us today to discuss your project (562) 989-1930 or click here to request additional information | |